Submitted by Anonymous on Jan 04, 2023
Fighting rampant online abuse, malware, phishing and other cybersecurity issues requires the coordinated efforts of many across the globe. M3AAWG always has had a global footprint with its membership (insert link) of multinational corporations, technical advisors and industry collaborators. 
As attacks and threats escalate, M3AAWG has accelerated its collaboration approach with a new partner engagement framework announced at the group's 56th general meeting in October 2022. This framework centers on the group's recently announced focus areas to guide the work of the organization to address current and emerging security issues and threats. 
At the core of the partner engagement strategy is aligning M3AAWG's core competencies and knowledge with the geographic and subject matter expertise in industry groups around the world. These groups currently include:
At the heart of the M3AAWG partner strategy is collaboration, communication and amplification of knowledge, best practices, and training with global impact.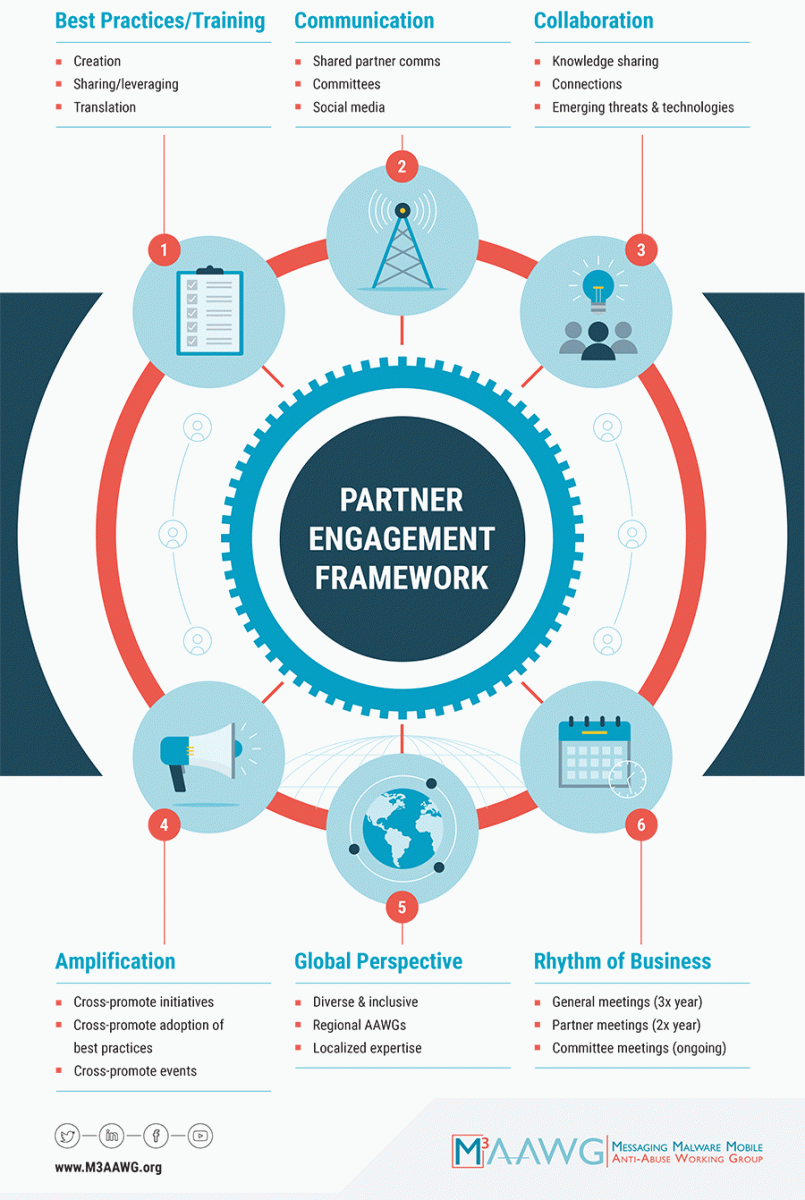 Collaboration includes knowledge sharing, identification of threats and technology and sharing resources from partners and M3AAWG.  M3AAWG will be working to develop collaborative communications programs and developing ways to share info among partners and externally. 
At the same time, M3AAWG will actively support and amplify partner initiatives, adoption of best practices, and industry events for education and knowledge sharing. 
JP-AAWG was formed as an independent regional expansion of M3AAWG to focus on cybersecurity issues related to Japan's unique challenges.
The collaboration focus is to disseminate proven industry best practices developed by M3AAWG and leverage shared intelligence and learnings for application in the region. We are encouraging other Asian countries to participate in the global anti-abuse community through this regional organization. More info on JP-AAWG is here, https://www.m3aawg.org/Japan.
Similar groups have been formed elsewhere. The African Anti-Abuse Working Group (AF-AAWG) (https://www.m3aawg.org/blog/collaboration-beyond-borders-the-role-of-international-partnerships-in-combating-online-abuse) was founded in 2020 to serve as a forum for operators in the African internet service region to develop anti-abuse recommendations and best common practices (BCP) in cooperation with global anti-abuse and network operator communities.
In 2016, M3AAWG began to explore means to improve collaboration with the Latin America and Caribbean operator communities. As a result, LACNIC (the LAC Network Information Center) and M3AAWG formed a partnership to share expertise and information that could reduce regional and global abuse. 
The development of LAC-AAWG as an independent working group within LACNOG is one outcome of those efforts. The partnership also has paved the way for M3AAWG members to provide training on hosting anti-abuse operations and to work with the regional community on anti-abuse best practices.
The partnership with LAC-AAWG resulted in the joint Best Common Operator Practice guidelines document for "Minimum Home Router Security". This document defined basic security criteria for home routers and other customer premise equipment (CPE) and has been translated into several languages to help providers around the world protect the internet against common attacks, especially DoS attacks arising from the abuse of these devices.  
More info on the partner program can be found here, https://www.m3aawg.org/our-partners.