Because Effective Anti-Abuse Collaboration Requires a Trusted Global Forum
The Messaging, Malware, and Mobile Anti-Abuse Working Group provides a collaborative global trusted forum that brings industry together to help fight and prevent internet online abuse. Working with members, industry groups and global partners, M3AAWG will continue its efforts to help prevent online abuse, focusing on protecting communications, data privacy and security, and the supply chain.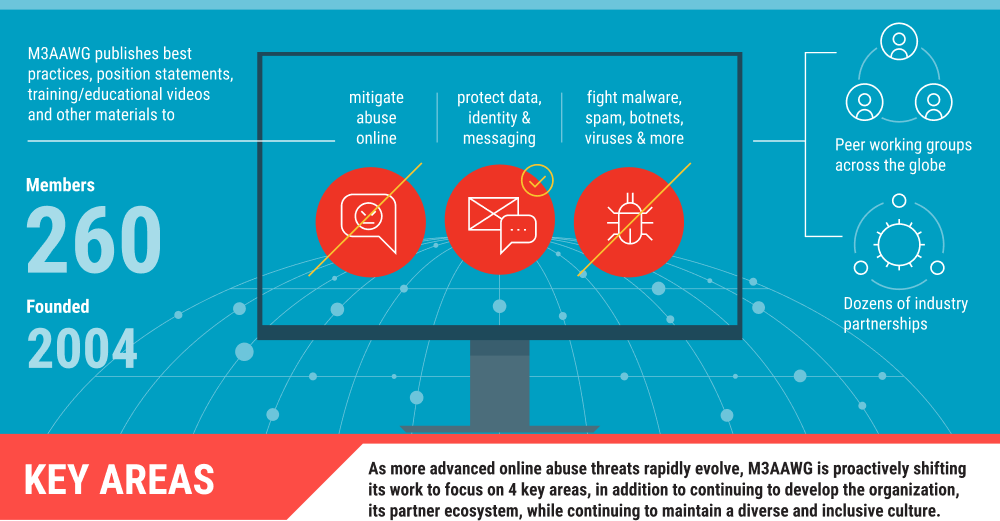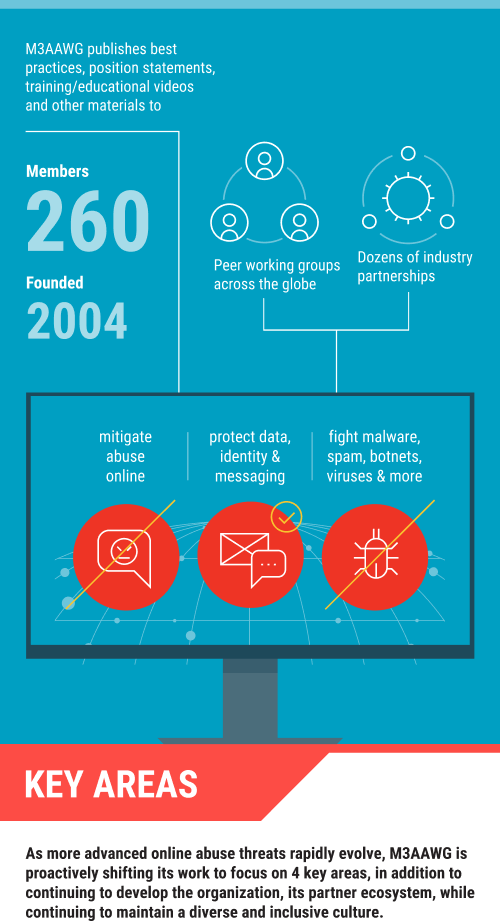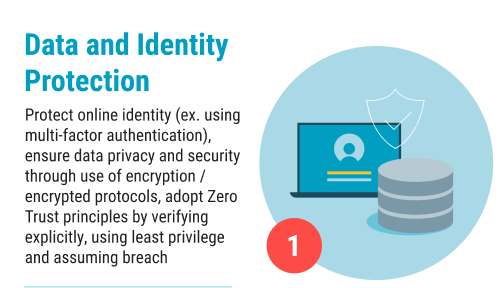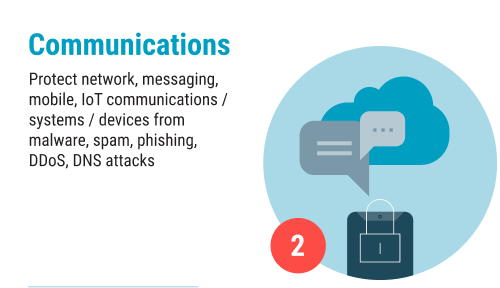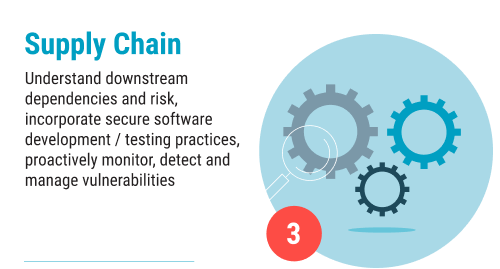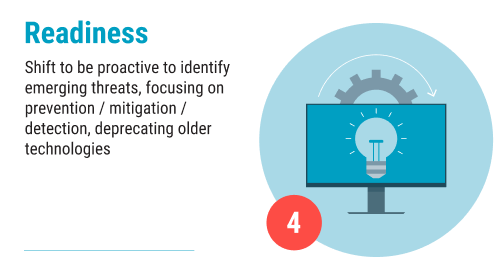 Who We Are 
Founded in 2004, the Messaging Malware and Mobile Anti-Abuse Working Group (M3AAWG) is a technology-neutral global industry association. As a working group, we develop cooperative approaches for fighting online abuse. Our more than 200 members worldwide include Internet service providers (ISPs), communications service providers, social networking companies, hosting and cloud services providers, major antivirus vendors and security vendors, email service providers, leading hardware and software vendors and major brands, as well as invited experts, government agencies and related industry groups and industry partners. 
What We Do 
In addition to ongoing assessment and discussion of relevant topics via our committees and special interest groups, we develop and publish best practices papers (translated when available), position statements, training and educational videos, and other materials to help the online community fight abuse with a focus on operational practices. 
Our public policy advocacy (which is not lobbying) provides technical and operational guidance to governments and Internet and public policy agencies developing new Internet policies, standards, and legislation. 
M3AAWG Priorities, Focus Areas and Initiatives
As Internet operations and security have evolved, our work continues to evolve as well to address:

Organization
Diverse & Inclusive Culture
Global Outreach
Growth and Development
Connection
Accountability, communication, contribution
Best common practices, knowledge / information sharing
Members, standards bodies, governments, industry partners, public policy, academia
Membership, leadership, mentorship
Interconnectedness, streamline cross-committee, STA collaboration
Improved collaboration tooling
PR/Marketing
Readiness
Prevention
Mitigation
Emerging Threats
Emerging Technologies
Threat intelligence/monitoring/modeling
Detection, respond, recover
Timeliness of deprecation of older technologies
Quantum Computing, adversarial AI, communications
Post-quantum cryptography, biometrics, artificial intelligence
Data & Identity Protection
Identity Protection
Data Privacy
Data Security
Zero Trust Principles
Multi-factor authentication, account compromise, ransomware
Legislation, policies, governance
Encryption, encrypted protocols, authentication
Verify explicitly, least privilege, assume breach
Communications
Network
Messaging
Mobile
IoT
Traffic analysis, transport security, endpoint security
Abuse Desk, Malware, DMARC, DNS, Spam, DDoS
Messaging, operating system, phishing, applications
Device security, data security, Mfg. dependencies
Supply Chain
Dependencies
Risk Management
Vulnerability Management
Verification
Open-source software, services
Assess, monitor
Detection, remediation
Secure development, testing
How We Work 
M3AAWG maintains a diverse and inclusive culture while providing its members a trusted forum and a framework for open discussion and collaboration on online abuse issues in an atmosphere of confidentiality and cooperation. 
Our work is driven by members who contribute ideas and content for best practices and other initiatives with input from a diverse community across industries, government, academia and civil society groups, as well as industry partners. Information and best practices are shared with the broader online abuse community as appropriate.  
Members participate in M3AAWG through relevant committees or special interest groups (SIG) in support of organizational priorities, focus areas and initiatives. 
Through global partners (https://www.m3aawg.org/our-partners), we collaborate to combine expertise and best practices across a number of complementary groups to fight online abuse.
In addition to regular committee, SIG, and board meetings, we gather three times a year in North America and Europe for working sessions, roundtables and keynotes. These multi-track meetings held over four days feature presentations by academic researchers, public policy advisors, government representatives, industry experts, and innovative technology leaders with open discussion among industry peers. 
Benefits and Value for Our Members 
Diverse and inclusive culture
Confidential and collaborative forums, including access to members only content
Global perspective
Breadth and depth of expertise and knowledge
Best practices
Content, and industry communications including News, our blog, videos and social media links provide frequent updates. 
Questions? Please contact Amy Cadagin, M3AAWG Executive Director, at  https://www.m3aawg.org/contact-us