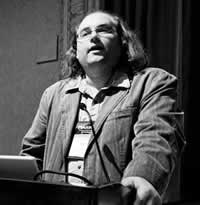 Each year at our fall General Meeting, M3AAWG honors the legacy and spirit of founding member, J.D. Falk, through our J.D. Falk Award. In the wake of COVID-19 – and the corresponding uptick in cybercrime – members of the anti-abuse community have mobilized faster than ever to safeguard the online ecosystem. At M3AAWG 50, hosted virtually from October 12-15, we'll present our ninth J.D. Falk award to a member of the anti-abuse community that has embodied Falk's dedication to protecting end-users in this especially vulnerable time.
To honor Falk, we're calling on members of the anti-abuse community – inside and outside of M3AAWG –  to submit nominations from the online anti-abuse community at large by completing this form by August 14th.
Falk was a crucial player in building the collaborative DNA that the organization maintains today. He was an exemplary force in the anti-abuse ecosystem and his collaborative and light-hearted nature, alongside his care and concern for end users, propelled the organization and its work in its early days. As in other areas of his life, Falk's anti-abuse work was rooted in a foundation of supporting others without motive, regardless of whether they should ever meet. When he saw something that could be made better, he took action. His spirit lies at the very core of M3AAWG's work, and each day we strive to facilitate industry collaboration and protect end users, just as he would have. His passion was recognized by many and it shows in the continued remembrance of him, both at M3AAWG and throughout the anti-abuse community.
In these especially difficult times, as the COVID-19 pandemic accelerates the amount of online abuse perpetrated by bad actors, Falk's commitment to protect end-users and build a safer online community is especially relevant. Many across the anti-abuse community are working tirelessly to take on today's most pressing challenges in areas such as account security, email authentication, and user privacy, among others. These commitments transcend personal and professional commitments, and serve the greater community in providing a safer, more secure online ecosystem for all. We're encouraged by the members of our community who have followed Falk's path, imbuing energy and enthusiasm in addressing today's anti-abuse issues through collaboration. 
Introduced in 2012, the award recognizes the work of an individual or team working to improve end users' online experiences and security. This can include developing a service, authoring a specification or related documentation, inventing a security mechanism or other technology, mentoring a community, or pursuing notable research.
The honoree will receive an honorarium underwritten by J.D.'s employer, Return Path (now owned by Validity, Inc.), as well as complimentary registration to M3AAWG's 50th General Meeting where the award will be presented. We look forward to reviewing your nominations and continuing to honor the legacy of J.D. Falk.