M3AAWG is urging the Federal Communications Commission (FCC) to defer to the industry's demonstrated technical expertise in managing unwanted and illegal messaging. The Commission sought comments on a proposal that would require terminating mobile wireless providers to investigate and potentially block texts from a sender after they are on notice from the Commission. M3AAWG has submitted comments on this proposal, and three additional topics, for the FCC's consideration. Review the full set of comments and recommendations here.
"It is difficult to foresee how better results could be obtained from mandated blocking than from flexible, expertly defined voluntary blocking by motivated carriers," noted M3AAWG in its comments.
That motivation is evidenced by extensive blocking efforts US wireless providers already execute in the fight against unwanted and illegal messages. The providers are engaged in collecting threat intelligence from trusted parties (to include government) and they are highly receptive to consumer complaints.
Messaging technology is advancing at incredible speeds matched only by an equivalent response in abuse tactics. The industry requires an agile posture to defend against these morphing attackers. And many attacks last less than one minute. By the time a blocking notice is issued, the attacker would most likely have moved on to a new sending address.
The Commission's proposal also described a blocking notice that may direct additional blocking of "substantially similar" traffic. M3AAWG noted that precisely blocking illegal clusters of related yet unique messages without blocking wanted messages would be highly complex in its implementation. Too few or too many messages could be blocked.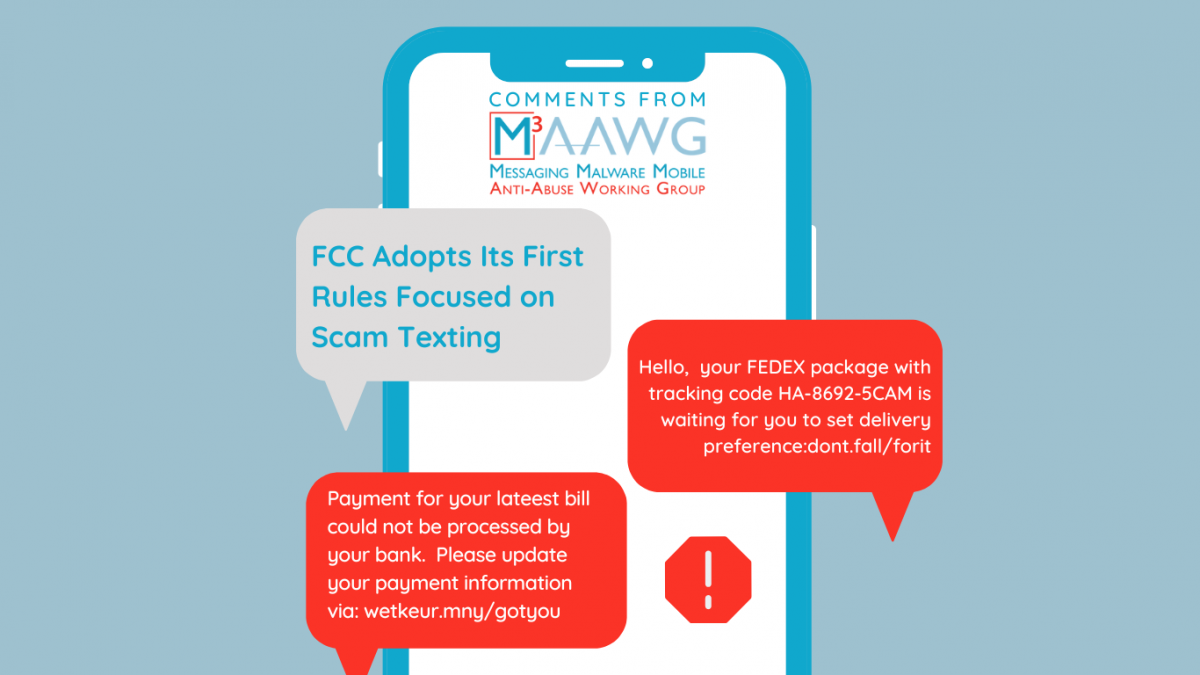 M3AAWG asserts the industry's existing defenses work well. The posture is robust, responsive, and extremely agile. The Commission could increase the effectiveness of this posture by facilitating collaboration such as intelligence sharing between consumers, private industry, service providers and the government.
M3AAWG supported the Commission's proposals to extend the national Do-Not-Call (DNC) Registry's protections to text messages, as well as a proposed ban on the practice of obtaining a single consumer consent as grounds for delivering calls and text message from multiple marketers.
The Commission also sought comments on text authentication measures, to include gathering information on the extent of number spoofing text messages. 
M3AAWG noted existing industry originating-provider identification and anti-spoofing tactics are fully sufficient. Carriers can (and do) block messages from identified phone numbers and occasionally even complicit service providers to protect consumers from illegal messages. 
Additional originating-provider authentication would not significantly enhance the protection of consumers from illegal and unwanted text messaging. Such mandates might encumber or prevent the implementation of more effective industry defense processes and mechanisms.
M3AAWG encourages the Commission to rely on, promote, and facilitate voluntary industry and consumer action through education; to enact regulations that permit and even empower collaboration wherever possible; and to encourage any actions that can foster increased collaboration.
M3AAWG provided these comments in response to the Further Notice of Proposed Rulemaking (FNPRM), Federal Communications Commission (FCC) 22-72, CG Dockets No. 21-402 concerning Targeting and Eliminating Unlawful Text Messages and No. 02-278 concerning Rules and Regulations Implementing the Telephone Consumer Protection Act of 1991 released on March 17, 2023.
M3AAWG has previously offered comments on various public policy initiatives, including FCC proposed actions and more on our Public Policy page.
All M3AAWG Best Practices can be found at https://www.m3aawg.org/published-documents