The J.D. Falk Award, with sponsorship by Return Path, was inaugurated in 2012 to honor a project or work that improves the Internet experience and protects end-users.  It is presented annually, usually at our October meeting.
---
No award presented in 2022
---
2021 - Coalition Against StalkWare, represented by Eva Galperin of the Electronic Frontier Foundation and Tara Hairston, Executive Director of the Coalition Against Stalkerware. 
As a founding member of M3AAWG, J.D. Falk embodied the mission of the group in his quest to make messaging and the internet a better place. In his memory, the group offers the J.D. Falk Award annually. We think J.D. would have been pleased to learn of the 2021 recipients: Coalition Against StalkWare, represented by Eva Galperin of the Electronic Frontier Foundation and Tara Hairston, executive director of the Coalition Against Stalkerware.  Read more in our blog post.
---
No award presented in 2020
 
---
2019 - Charles A. "Tod" Eberle IV Chief, National Security & Cyber Section U.S. Attorney's Office | Western District of Pennsylvania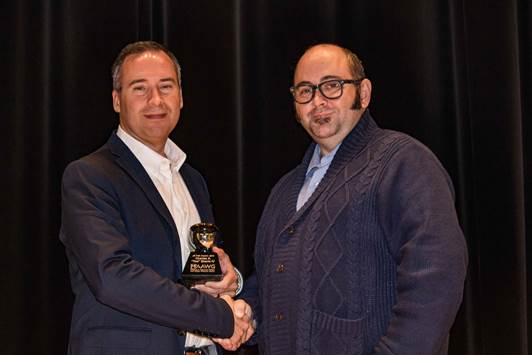 M3AAWG awarded Charles A. "Tod" Eberle IV, with the 2019 J.D. Falk Award for his forward thinking approach the GozNym case announced in May 2019 which was developed out of the Avalanche case in 2016. (M3AAWG 2017 J.D Falk Award went to Germany's Lower Saxony Chief Police Inspector Jörn Bisping and Senior Prosecutor Frank Lange for the Avalanche Takedown)
By showing criminals that Law Enforcement action can be spread more globally and that countries without extradition treaties can still work collaboratively for justice we send an important message to criminals and to victims. Few will understand the amount of work that goes on behind the scenes to make such collaboration possible - and in taking this approach Tod not only made his life far harder, but he also carries risk of criticism in the event of failure. He showed a strength of character and purpose in achieving justice in the face of international and geopolitical difficulties that deserves recognition.
---
2018 - Ronnie Tokazowski and the BEC List
The award presentation is the first public recognition of the "under the radar" BEC List started by Ronnie Tokazowski in 2015 and that has grown to over 530 business, academic and law enforcement participants working to protect users from business email compromise fraud, often referred to as "Nigerian" schemes. Also see the news release describing their work and a partial list of the organizations participating on the list.
---
2017 - Germany's Lower Saxony Chief Police Inspector Jörn Bisping and Senior Prosecutor Frank Lange - Avalanche Takedown
The global Avalanche takedown initiated by German Chief Police Inspector Jörn Bisping with the Lower Saxony Police in Luneburg and Senior Prosecutor Frank Lange with the Public Prosecutor's Office in Verden resulted in eight arrests, 500 court orders, 37 onsite searches, 39 servers seized worldwide and over 800,000 domains seized, blocked or diverted to a safe server. In the video How to Takedown the Avalanche Platform?, Mr. Bisping and Mr. Lange explain how the five year investigation that started with just 200 local ransomware cases led to the takedown of a criminalized platform infecting systems in every country of the world.
---
2016 - André Leduc - Operation Safety-Net and Canadian Anti-spam Legislation (CASL)
 
Operation Safety-Net brochure describing the emerging threats and scope of the full best practices report
Operation Safety Net – Best Practices to Address Online, Mobile, and Telephony Threats is a comprehensive 76-page report written in clear, non-technical language defining online threats for business, government and general users with the proven best practices to protect against them.  CASL requires marketers to obtain a user's permission to receive a commercial message before it is sent, a process known as "opt-in" that is more effective in fighting abuse and spam.  It has significantly cut junk mail in Canada and beyond. André Leduc was instrumental in bringing both these projects to fruitation and was honored at the M3AAWG 38th General Meeting in Paris with the 2016 JD Falk Award for his achievements.
---
Keys Under Doormats: Mandating Insecurity by Requiring Government Access to All Data and Communications - July 2015
Keys Under Doormats Tutorial by report co-author Josh Benaloh at M3AAWG 35th General Meeting in Atlanta - October 2015 (posted with the presenter's permission)
The report from a group of highly-respected computer scientists and security experts outlines how the government's request for a system allowing it to access any secured file would set back Internet security, raise legal and ethical questions, and be impractical to implement.  The authors were recognized at the October 2015 M3AAWG 35th General Meeting in Atlanta:  Harold Abelson, Ross Anderson, Steven M. Bellovin, Josh Benaloh, Matt Blaze, Whitfield Diffie, John Gilmore, Matthew Green, Peter G. Neumann, Susan Landau, Ronald L. Rivest, Jeffrey I. Schiller, Bruce Schneier, Michael A. Specter and Daniel J. Weitzner.
---
The volunteer efforts of Jared Mauch, a network engineer at NTT Communications Global IP Network, a business unit of NTT America, led to the development of The Open NPT Project, The Open SNMP Project and other programs. Together these projects have helped the online community identify millions of servers with open DNS settings that could be commandeered in DDoS and spoofing attacks. Hear Jared explain how it works in his acceptance video shown at the M3AAWG 32nd General Meeting in Boston.
---
Presented for his work in developing the University of Alabama at Birmingham's Center for Information Assurance and Joint Forensics Research.  Gary Warner's dedication and insight has led to a new approach for training 21st century "digital detectives" who can better identify cybercrime and protect end-users. He received the award at the M3AAWG 29th General Meeting in Montreal.
---
Thomas X. Grasso was recognized for his leadership role in convincing competitors, disparate business entities and researchers to collaborate in the DNS Changer Working Group.  The effort saved an inestimable number of end-users from losing access to the Web over a two-year period. The award was presented at the M3AAWG 26th General Meeting in Baltimore, Maryland and is explained in this short video.