M3AAWG General Meeting Location: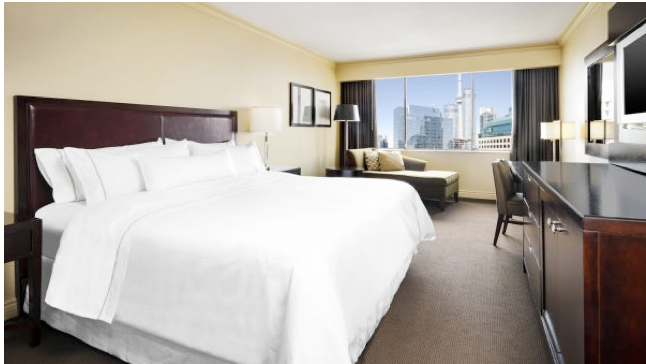 Hilton Munich Park, Munich
Am Tucherpark 7
Munich, 80538 Deutschland
Phone: +49.89.3845.2525
Hotel information - PDF
Make reservations directly to the Hotel by:
The M3AAWG Rate will be offered 3 DAYS before and after the meeting based on availability.
The M3AAWG negotiated room rate is guaranteed until Monday, May 14, 2018.
After May 14, please contact the hotel directly to determine availability.
Room Rate:
 

Standard Room

 

 

$199.00 EUR Single / Double
$199.00 EUR Double   
$199.00 EUR Triple
$199.00 EUR Quad
 
*Rates do not include applicable taxes and fees, currently 7% on the guest room rate. Subject to change. 
This room rate is non commissionable to travel agents
Check In Time:            15:00pm
Check Out Time:         12:00pm
Cancellation Policy:
Credit cards are needed to guarantee reservations, and reservations cancelled 24 hours prior to arrival will receive a full refund of their deposit.  Any reservation cancelled after 24 hours prior to arrival or no shows will forfeit 1 night's room and tax revenue.
Credit Card Hold Policy:
If you use a debit/credit card to check in, a hold may be placed on your card account for the full anticipated amount to be owed to the hotel, including estimated incidentals, through your date of check–out and such hold may not be released for 72 hours from the date of check–out or longer at the discretion of your card issuer.
Business Center:
Location: Mezzanine Level
Hours of Operation: 07:00 – 23:00
Fitness Center:          
Location: Ground Floor
Hours of Operation:  24 hours with keycard access
Cost: Complimentary for hotel guests
High Speed Wireless Internet Access in Sleeping Rooms:
Complimentary if booked in the MAAWG group room block.
---
TRAVEL INFORMATION
Munich International Airport (MUC)
Distance from hotel: 21.7mi / 35km
Drive time: 25 minutes
AIRLINE OFFERS 
Please find below optional M3AAWG discount codes for United and Delta Airlines. 
United Airlines: 
You may book online at www.united.com and enter the code ZEFW334815 in the Offer Code box.
Call: United Reservations Meeting Desk at 800-426-1122 OR if booking through a travel professional. Reference Z Code:ZEFW and Agreement Code: 334615.
Please note there is a $25.00 per ticket service fee collected when tickets are issued through the United Meetings Reservations Desk.
Delta Airlines:
You may book online at www.skyteam.com, event code is NMRTU
Call:  Delta Meeting Network Reservations:  800-328-1111.  Reference Delta Code: NMRTU
Please note that a Direct Ticketing Charge will apply for booking by phone.
Trains, Bus, Trams: 6.70 EURO Day Pass
Munich has an extensive public transportation system. It consists of a network of underground (U-Bahn), suburban trains (S-Bahn), trams and buses. Subway stations are marked with signs showing a white "U" on a blue background. The S-Bahn suburban lines are marked with a white "S" on a green background. Tram and bus stops are marked with a green "H" inside a green circle on a yellow background.
Take S-Sahn 8 or S-Bahn 1 to Munich Central Station (Hauptbahnhof), take tram line 16 in the direction of Effnerplatz/St. Emmeram and exit at Tivolistrasse. The journey takes approximately 20 minutes. Hilton Munich Park is just a 3-minute walk from the station.
For more information: https://www.mvv-muenchen.de/en/index.html
Taxi: Approximately 65.00 EUR one-way
Self-Parking: 28.00 EUR daily
Valet Parking: 28.00 EUR daily and includes full in/out privileges.
Embassies and consulates in Germany:  https://de.usembassy.gov/embassy-consulates/
Visas:
A valid passport is required for all U.S. citizens and foreign national entering Germany.  U.S. Citizens may enter Germany for up to 90 days for tourist or business purposed without a visa.
Passport should be valid for at least six months beyond the period of stay.
---
DESTINATION INFORMATION:
Munich, Germany:
Munich's walkable center retains a small-town air but holds some world-class sights, especially art galleries and museums. Throw in royal Bavarian heritage, an entire suburb of Olympic legacy and a kitbag of dark tourism, and it's clear why southern Germany's metropolis is such a favorite among those who seek out the past but like to hit the town once they're done.
Currency:       EUR                                       
Voltage:         230V
Language:     English and German
German Electrical Plug: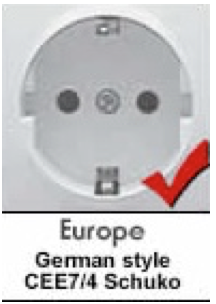 Tipping:  Tip and Service are included in the menu price at restaurants, bars, etc.  Tipping the hotel porter 1-2 Euro/bag is average. 
Weather Conditions:  Average weather temperatures for Munich in June range from a high of 71°F (22°C) and a low of 48°F (9°C).
Dining:
Germans tend to eat heavy and hearty meals that include ample portions of meat and bread.
Traditional cuisine includes various types of sausage, Wiener Schnitzel (Veal), and Goulash (beef stew).  Vegetarian options include Spätzle (cheesy egg noodles), potato dumplings and of course, pretzels!       
Downtown Dining Guide: https://theculturetrip.com/europe/germany/articles/9-best-restaurants-in-munich-s-old-town/
Restaurants at Hilton Munich Park
Tivoli Restaurant: http://www.muenchen.de/int/en/sights.html
---
Local Attractions:
http://www.muenchen.de/int/en/sights.html
Marienplatz: Marienplatz is in the city center of Munich and has been the city's main square since 1158.  Sightseeing, shops, restaurants, cafes and beer halls are all in walking distance.
Glockenspiel: Located in Marienplatz central square, this gothic clock tower showcases a performance of motorized figurines dance, joust, and twirl around the inside of the tower every day at 11 a.m., 12 p.m., and 5 p.m.
BMW Museum: BMW Museum unites the past and present under one roof. Go on a journey through the brand's technological development including vintage cars, aircraft, motorcycles, turbines, engines as well as outlandish concept vehicles from the last two decades.
Neue Pinakothek: From Goya to Picasso is the guiding motto for the Neue Pinakothek collection. In the mid-19th century, King Ludwig I founded the Neue Pinakothek as the first public museum in Europe exclusively dedicated to contemporary art and it remains one of the most important museums of 19th century art in the world.
Nymphenburg Palace: With its unique combination of Baroque architecture and garden design, Nymphenburg is one of the best examples in Europe of a synthesis of the arts and was the summer home of many Bavarian rulers. 
Deutsches Museum: The Deutsches Museum is the world's largest museum of science and technology, with about 28,000 exhibited objects from 50 fields of science and technology. 
Eisbach River Surfers: Only a few blocks away from the Hilton Munich Park in the English Garden, you can watch surfers brave subzero water temperatures while riding a man-made wave.
Bavarian State Opera: With performances almost every single day, this is the oldest opera company north of the Alps with history tracing back to 1653.
St. Peter's Church: Munich's oldest church was first built at the end of the 1100s but destroyed by fire in 1347. The reconstruction was in the Gothic style and down the years there have been many extensions, leaving the St Peter's with Renaissance and Baroque elements.
Bavarian Beer Halls: For traditional Bavarian fun and a chance to clink beers with new friends, nothing beats a good old-fashioned beer hall filled with with cheap food, noisy fun, and oompah music.